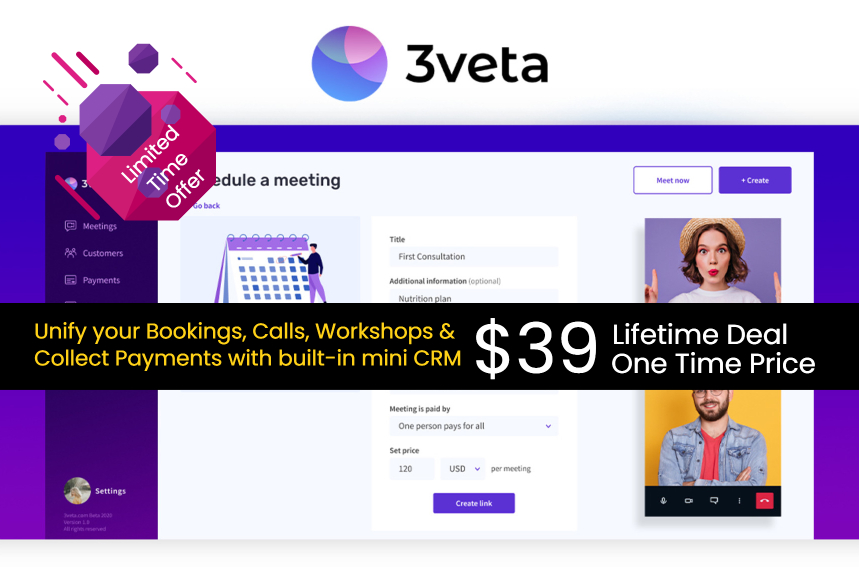 Deal Categories: All Deals and Hot Deals.
To get paid for your work, you need to make things simple & easier for your clients (this includes how you are getting paid too)
You simply cannot ask your clients to book a meeting with you using one app, ask them to download another app to get on a call with you & then use another link so they could pay you (Uff, it's really exhausting) Say goodbye to the traditional way of doing all of this Virtual work happens the most with video calls.
The meetings feature allows you to create and schedule meetings and add upto 100 members/participants to your meetings. Your time and money is your true worth. Simply have the control of getting your clients to pay you individually or collectively as per your liking. Integrate your Stripe account with 3veta to get seamless payment processing. (Best of both worlds) Your client information is the bible for your services.
TLDR;
Host Paid Events & Workshops with upto 100 people
Alternative to: Zoom, Calendly
Compliance with GDPR and HIPAA
Best suited for: Sales Professionals, Consultants, Coaches
But how do you conveniently manage them? Head to the Customers section to see your customers' details. By clicking on a particular profile of your customer, you can schedule and invite them to a meeting. If you have come this far, creating custom websites for your services is possible with a few clicks. Create a custom booking page that you can display publicly. Your customers can book and attend timed meetings with you through the booking page.
If you are a detail-oriented person, the idea of creating a whole new website quickly excites you.
Simply add the text and visual elements needed to elaborate your services to customers. About time your customers are on the waiting list for your show to begin. Now think about taking your whole work online affordably. Well. Your head might swirl a bit. Did we forget to tell you that 3veta has mobile apps for iOS & Android devices?
While others are paying $49/mo for the Premium plan with no branding, you can score the same deal for just $39/one-time today.
And you can stack up to 5 codes to get 10 users for life. Get Paid for your Coaching Sessions today!!
(Remember, if you are good at something, never do it for Free)