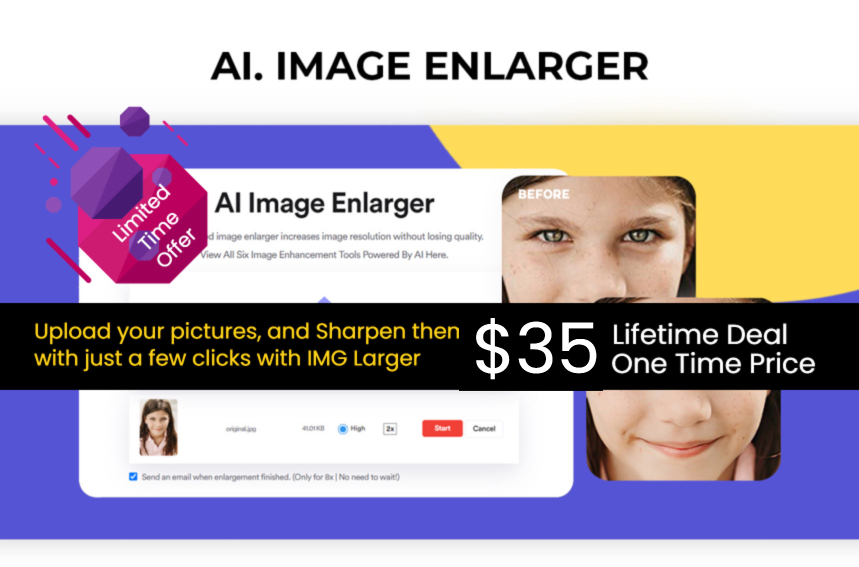 Deal Categories: All Deals and Hot Deals.
Visit Deal!
What's the first thing you do when you see a blurry image?
You run for your life, and scroll down the webpage (or) worse, close the tab. For sure you don't want your visitors to do the same i.e., losing a lot of business. You can use the most advanced noise reduction algorithm that automatically removes grain and other… (alright, enough… just say it already) And we have barely scratched the surface.
TLDR;
Sharpen your images & make them look crisp with the power of AI
Alternative to: Topaz, LetsEnhance.io
Bulk upload images in a highly secured environment
Best Suited for: Web Designers, E-commerce stores, Bloggers & Photographers
A.I Image Enlarger boasts other powerful AI tools such as AI Image Enhancer, AI Image Denoiser, AI Image Sharpener, AI Face Retouch & AI Background Eraser to upscale and enhance your images and photos, without any loss of quality. With A.I Image Sharpener Retouch, you can fix everything from your selfies to your tour pics with just a few clicks.
No more blurriness in your photos as the A.I takes care of sharpening the edges in all of them.
And, you can bulk uploads(max. 5 images at a time) and process them together to save your time. Often you'd have wished there's none at the beach when you clicked your pics. But you know the reality; it's always crowded.
With AI Background Remover, you can easily remove the background & repurpose the pics like it's just you on the beach, and none else (maybe, not even the beach :D)
And you can score this "Picture Perfect" deal on Image Sharpener & BG remover for upto 1,000 credits per month, for just $29/lifetime.
You can stack 2 deals to get 2,500 credits per month. Get lifetime access to AI Image Enlarger NOW!!